I heard some upsetting news this week. I heard that someone I knew had died.
It was her birthday and her daughter posted a message on Facebook saying her mother had passed and she would carry her forever in her heart.
It was a shock, because I knew this woman as someone so engaged in life and travel and her family. I'd just had a message from her a month ago. "I'm finally going to Africa! I'm starting in Uganda visiting my daughter then to Kenya and Tanzania. Have you been?" We had some chat back and forth about where she was going, and other places she was thinking of going. We weren't super close, but she was someone I was always happy to hear from.
The hardest news to take was that she died from her own hand, and those sunny social media posts were hiding internal struggles. I'm still shocked that she did this. Knowing how tightly she held onto her family, I can't imagine how fierce the dragons in her head were, to drive her to this.
I guess all I can say is, when people say things are fine, don't accept things really are fine. Ask, listen, observe, and ask again.
COP26 has finished. The headline results are deals on reducing deforestation, on methane reduction (methane being a more destructive gas than CO2), and a kind-of sort-of deal on "phasing down" coal. The agreed text on "phasing out" coal was revised at the last minute after objections from India and China. The verdict is the agreements, if followed by actions, are a good start but are possibly not enough to keep the temperature rise below 1.5 degrees needed to avoid disaster.
In terms of emission reductions, if you're reading this and living in a rich country, we have the most to do in terms of reducing our emissions. The graph below shows how far above the black line we are and how much we have to do to reduce our emissions to keep the 1.5C target.
Since none of us are governments, we can only control what is within our reach as individuals to positively impact climate change. This table is an index of things we can do as individuals. Reducing food waste and eating a more plant-based diet are two key things we can do. If food waste were a country, it would be the third biggest carbon emitter, after China and the USA. A third of the world's food goes to waste. Those two facts are shocking. If nothing else (and I know I've been harping on about this climate stuff for two weeks in a row now) please take those two facts on board and think about ways you could use food more effectively, with less waste.
Disappointment of the week: I applied for an internal secondment a month ago. I spoke to the hiring manager before applying and he was happy to hear from me, very positive that I had good experience that could benefit his team. So I wrote my application with no small sense of anticipation that something might finally change for me. As the hiring manager said they needed to fill the vacancy urgently, I expected to hear something in the first weeks of October.
I didn't hear anything then, but as I was going away to Switzerland I put it out of my mind, thinking they had noted I was on leave and would contact me when I got back. And indeed when I got back I checked the online application system and could see I was shortlisted for interview. Wheeee! That felt pretty positive. They want to interview me! First step on my way to getting that secondment.
But then there was no call or message about an interview.
At first I thought maybe they were busy, with the team being one person down, and hadn't got around to arranging interviews. But then October ended and it was November already and still I heard nothing. I wrote to the HR contact, no reply. I wrote to the hiring manager, no reply for 10 days, then a 'sorry, we went with someone else more junior' message. It seems that my extensive experience, which people keep telling me is soooo valuable, is actually a disadvantage. Disappointed? Hell yes. Would I feel better if I'd been told earlier on that I was 'too experienced'? Hmm. It feels a little like someone is making decisions / assumptions for me: 'you would have gotten bored very quickly.' Would I? *sigh*
Hopes raised, hopes dashed. It sucks.
This week's night out: Public Service Broadcasting at Brixton Academy. We've seen this band before – in Paris, which makes us sound very jet set, but you can get there by train. Also in Paris, we were in the backroom of an Irish pub in the Montmatre area. Which was a lot more intimate than the vast space of the Brixton Academy (although PSB have performed in the even more vast space of the Royal Albert Hall). The current tour is promoting their current album, Bright Magic, inspired by Berlin. I've listened to it a few times and it's not as obviously appealing as some of their earlier work. The first few tracks of the concert were good – I thought, perhaps the songs are better with the associated visuals – but hmm, in all, I would say no, in general I don't like this album. The show was good – there are four band members (with support act EERA brought in to provide female vocals on several tracks) who play a wide range of instruments between them (including the flugelhorn. Don't forget the flugelhorn). So it is a delight to watch them play and admire the musicianship married with technology. However some of the new instrumental and more ethereal / intellectual songs were… a little… dull.
Big shout out to the precision roller skaters who came on for the penultimate song, "People Let's Dance", replicating the skating that you can see in the video. One of the skaters not only turned cartwheels but also did the splits. Super impressive! When we got off the Tube coming home, we walked past a woman carrying skates. "Excuse me," Husband asked, "were you just on stage in Brixton half an hour ago?" Yes she was, and she was pleased to get the compliment that we found her skating impressive.
This week's inspiration: Here's the plot of a novel in picture form.
I thought it looked too perfect. It must be a photoshop. But no, searching on Lady Florence Norman turned up many pictures of her on her scooter. Why can't I find any books written about this woman?
(The article underneath about the rising cost of executions could also provide the plot of a novel.)
Is it a bird, is it a plane? No, it's a bat. A bat has won Bird of the Year.
A New Zealand wildlife organisation, Forest and Bird, runs annual Bird of the Year to highlight the plight of endangered species. (The flightless kakapo parrot has won the award more than once.) This year Bird of the Year was won by the pekapeka-tou-roa or long-tailed bat, one of the rarest mammals in the world.
Look at that cute little face. How could you deny it the win?
But if we truly had to pick a bird of the year, I would nominate the bar-tailed godwit. Not a bird you may be familiar with, but these birds fly non-stop from Alaska to New Zealand every year. This year a female godwit made the journey of 12,200km non-stop, setting a new world record for longest flight ever recorded by a land bird. The journey took eight days and 12 hours and she travelled at an average speed of 59km/h. The godwits are super efficient flyers, not just with the aerodynamics of a jet fighter but are also able to condense their internal organs to reduce weight for long journeys. But that's not enough to win you Bird of the Year. The godwits were robbed!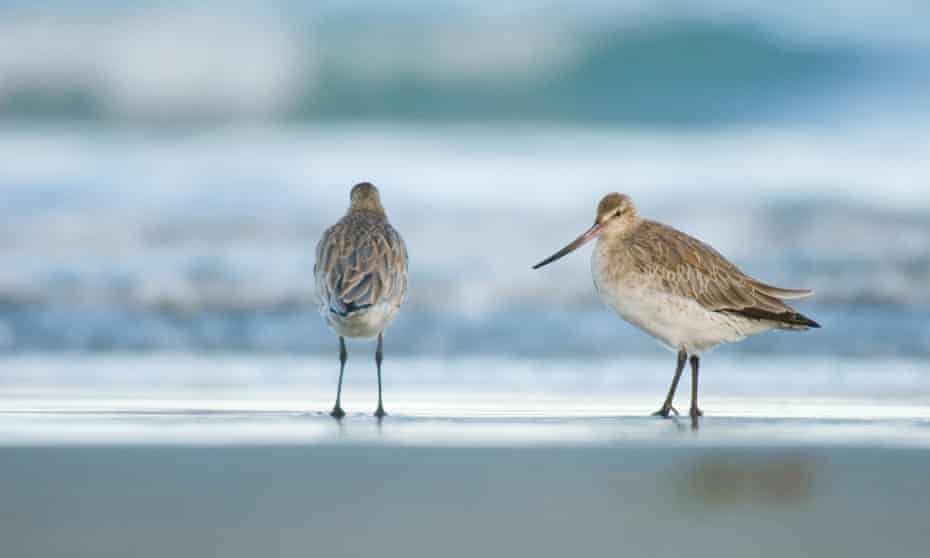 Winter stockpiling: We now have 13 jigsaw puzzles in the house ready for the winter. That's 3 months worth of puzzling ahead of us, once we get to "properly cold winter weather". I'm not sure why we need cold weather for puzzling, but that's what we've decided. I'm also not sure when it will get properly cold because it's still quite mild, despite being halfway through November.
I am also stockpiling books! I have all the books! (insert villainous "mwah ha ha" laughter here.) I have about 40 to-read books at present and I added another four or five on the weekend (from a second hand shop where books were only £1 each. Well I couldn't leave them there for that price!). The good news is I finally finished reading Moby Dick this week (hurrah!) so I can carry on reading something I will enjoy. I've got some light reads lined up (several from the Mary Russell series by Laurie R. King, another Amy Steward Kopp sisters novel, another two Ben Aaronovitch Rivers of London novels) which I think will do me nicely to the end of the year.
I hope you have enough of what you need to get you through this week.