This week on the Wake Up/Wind Down podcast, Niall Breslin has been talking about things that make you laugh, because it's good to laugh, it's important to keep a sense of play in your life. And he admits that one of the things that makes him laugh the most is when people get phrases wrong. One of the examples he gave was when people say "escape goat" instead of "scapegoat". This made me smile, and all week I've been pondering this phrase, escape goat, and wondering how we might bring it into common use because I like the visual imagery that goes with it. If we use a scapegoat as someone to blame, what could an escape goat be?
I'm thinking an escape goat might be something like… you go to dust your bookshelves. The dusting shouldn't take long. But then you start looking at the books, and thinking you really need to go through these books and sort them out – there are probably some you could give away. But sorting books takes a lot of time obviously because you have to stop and think and maybe have a little read of the books before you make a decision; and then when you're finally done with the books and onto the next shelf you find some old photo albums which you have to pull out and have a look through and laugh and maybe use your phone to take a photo of the old photo so you can send it to someone; and then on the next shelf there's a potplant that's not in a good way so you think this is the time to re-pot it but you have to remember where you put the potting soil and then once you find it you then have to find some newspaper so you don't mess up the table when you tip the plant out to re-pot it.
In this case, the dusting became an escape goat.
(Interesting side note on scapegoat. It has it's origins with an actual goat that was "given" the sins of a people or a village and sent out into the wilderness, taking the sins away. It's based on a translation from Hebrew for "the goat that departs". I think the idea was the goat was going to die in the wilderness and take the sins with it, but in actual fact I picture the goat heading off into the hills to have a nice life completely untroubled by the burden of human sin it was supposed to be carrying.)
One of my friends got a phrase wrong some years ago and it stuck with me because the word "flagshit" is something I think should be in common parlance. She was of course trying to say "flagship" but the what she actually said was more accurate to the thing she was describing. And I'm sure you know exactly what a flagshit initiative is. I'm sure you've suffered through at least one in your working life.
Next week marks the 20th anniversary of George Harrison's death. Was he the best looking Beatle? I guess we could debate that. John and Paul are probably the two most people think of. (Which reminds me of a joke: Why did the Pope call himself John Paul when everyone knows George and Ringo were God's favourite Beatles?)
I guess we all have our own opinions on that, but for someone who always looked so serious, he did have a sense of humour. Did you hear the story about how he pranked Phil Collins by hiring musicians to re-record a track a young Phil had done session congas on? And let's not forget this appearance on Rutland Weekend Television dressed as a pirate and singing The Pirate Song. He also put up funding for Monty Python's Life Of Brian when the original funding company pulled out. Fans of the film may be able to spot George in a cameo appearance as Mr Papadopolous. (I suspect he provided his own beard.)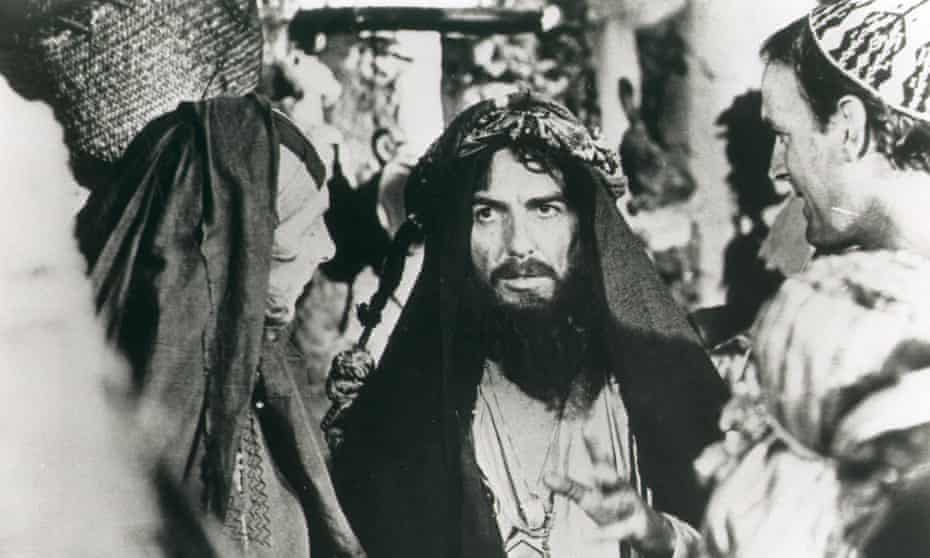 There's a shop in the train station where I often pop in if I've just missed a train and have some minutes to wait until the next one. It's full of beautiful and often outrageously expensive items. So a good place to spend a few minutes and ponder what I would spend a stupid amount of money on if I felt so inclined. That way I get the mental benefit of shopping without actually spending any money.
But this week I saw these skates and I thought – wow!
OK, I'm not going to buy them.
I'm not a skater.
But these skates are so outrageous in their purple-and-leopard-print-ness. It makes me feel I want to learn to skate. And I feel that if I were wearing these skates I could skate really well.
Like a lot of people who were children in the 70s, I tried roller skating as a child, but my memories of skating are not fond. I remember being taken to the roller skating rink when I was on holiday and being left there by my parents who must have had other things to do. Unhappily I was not a child who was good at skating, so my time there was spent dragging myself around the edges while trying to stop my legs from rolling out from under me in different directions. And because all the other kids in town spent every weekend at the skating rink they whizzed around at speed, and when I dared to let go of the edge, I would roll forward slowly and nervously until a faster skater whizzed by me, buzzing me in effect, and in the rush of their slipstream I would wobble and I would fall over.
So no, I don't remember skating fondly.
There was of course a time when we were surrounded by skating in popular culture – Cliff Richard Wired for Sound, Starlight Express, Xanadu – all based on roller skates.
And roller skating is not just a retro thing. Public Service Broadcasting featured skaters in the video for People, Let's Dance, the first track released from their new album this year
(I'm now wondering where I could get a purple and leopard print unitard to wear with my purple and leopard print skates.)
I found out this week that social media advertising really does work. It was because this charming picture of an aubergine (eggplant) Christmas decoration turned up on my feed.
I don't know about you, but I see this and I immediately think, "I want it."
Of course, it's part of a 3-for-2 deal, so if you buy one you may as well buy 3. But of course there are more than three that you want. So I won't tell you how much I spent but I have acquired 12 new Christmas decorations. (Good thing I didn't spend any money on roller skates and a unitard then.)
This week we not only finally put our heating on for the first time this winter, but I also had a sneaky (early) listen to my All Encompassing Christmas playlist. (Yes I know that it's November and it's too early, but by my reckoning, ince the weather gets close to freezing, be it November or February, I can listen to Christmas music.)
One of the first songs that came up was not a sing about snow or sleigh rides. It was Tim Minchin's "White Wine in the Sun". A very Australian take on Christmas but with just as much schmaltz as any other Christmas song. It got me thinking back to my last visit back to Australia for Christmas, four years ago, and having a BBQ on Christmas Day in the afternoon, when the heat of the day had passed, sitting around in the shade with a hint of a breeze taking the edge of the humidity, chatting with pretty much everyone in my close family, while observed by magpies who hovered in hope of getting some snacks.
And I felt a sudden wave of sadness, because that feels like such a long time ago, and even if I go back for another Christmas, that kind of Christmas family get-together may not happen again – and certainly not in that location as that house has since been sold and knocked down and two shiny new houses built in its place.
But luckily my Christmas playlist has some proper cheery Christmas songs too, like Bob Seeger Sock it to me Santa and one of my favourite Christmas songs, Marshmallow World. And these songs managed to cheer me up again. (Luckily my playlist didn't throw Neko Case's cover of Christmas card from a hooker in Minneapolis at me. That is not a cheery song.)
In a week when a new Covid variant was announced (omicron, which sounds like a villain from an avengers movie), Husband and I have booked our booster vaccines. We are getting jabbed on 21 December, my last working day for the year. A reminder that while people gave up wearing masks and started to think it was all over, the virus was just quietly mutating, as viruses (virii?) do.
With now less than one month to go, I can start planning Christmas food. I found a few websites with lists of Greek recipes (including one for giant baked beans – officially called gigantes – which are a favourite of mine). Now to plan a master list of too many dishes, write up a lengthy shopping list of specialist ingredients that we won't be able to find, and buy more food than the expected 3-4 of us could eat in a week, let alone for one meal on one day.
It's my birthday next week, so I'm off to the wilds of Kent for a long weekend. I'll be back next weekend to report back in on my experience in England's biggest second hand bookshop. Wish me luck!
And I leave you with this picture of author Agatha Christie and a surfboard, after finding out this week the world renowned crime author was a fan of the sport.