Remember the space shuttle? Remember when space travel stated to look like plane travel and there was some kind of a hope (at least in my much younger self) that soon we could all travel in space?
Well that didn't happen for me. But space was still big business movie wise in 1979, and that's why the Bond producers pushed back the next announced film (For Your Eyes Only) to instead release Moonraker in 1979.
I was surprised to read that Ian Fleming did write a book called Moonraker; however the producers of the film threw out that plot and just kept the title, which could explain some things about this movie.
This was the first Bond film I saw at the cinema. I would have been quite young to go see a Bond film but I was obsessed by all things space and certainly wouldn't have picked up on some of the double entendres in the film (more in that later).
The film starts with a space shuttle being transported on the back of a British Air Force plane, but then stolen. (Why transport a space shuttle full of fuel? Wouldn't that make it heavier?) Bond is called upon to investigate, but first he must finish his previous mission ("in Africa") which involves a fight on a plane followed by a breathtaking midair fight over a parachute. (Spoiler – Bond wins).
The theme tune is entirely forgettable despite Shirley Bassey singing. I can just imagine her excitement at being offered another Bond theme tune, and then hearing Moonraker, and asking, are you sure it's for a Bond film? It doesn't sound like a Bond theme tune to me. And she would be right because it doesn't. There's no hook, there's no big chorus, there is nothing memorable about this tune at all.
The opening credits have lots of somersaulting women, guns – and the moon, of course. Or some kind of lightbulb representing the moon. Nothing we haven't seen before. But apart from the name, this film has nothing to do with the moon, so those dancers give a false impression.
Bond has significant encounters with two women in this film. Another female helicopter pilot, Corinne Dufour, and scientist Dr Holly Goodhead (yes, she's a candidate for the top 5 offensive names of Bond women. *Sigh* You can just picture the men in the room thinking this name up, and chuckling to themselves that they make such a funny joke, can't you?)
That's two female helicopter pilots in two films. My husband jokes that this is Bond films doing positive discrimination. (*spoilers) Unhappily it doesn't end well for Corinne. I guess her employer, the meglomaniac Hugo Drax, didn't take kindly to her helping Bond trying to find out what happened to the stolen Moonraker space shuttle.
(*more spoilers*) Dr Goodhead fares better, as you'd expect, because she's a secret CIA agent also spying on Drax, the maker of the Moonraker space shuttles.
Exotic locations: Bond and Goodhead travel separately from California (where Drax has his headquarters – although his Chateau is obviously in France); to Venice, where a fight in a glass museum saw the highest use of sugar glass broken in a single scene; to Brazil by Concorde (Rio, Iguazu Falls – and random footage of a temple from Guatemala for good measure); and of course, to outer space!
Bond makes contact with a local agent in Rio, Manuela (and by "makes contact", you know what I mean, I'm sure…) We get some footage of Rio Carnival and Jaws appears, leading to a classic fight scene on the cable car to Corcovado. Not one for anyone with a fear or heights (or cable cars).
But we also get to see a softer side of Jaws, when he's rescued from the rubble of the cable car by a petite blonde, and for Jaws and Dolly, it's love at first sight.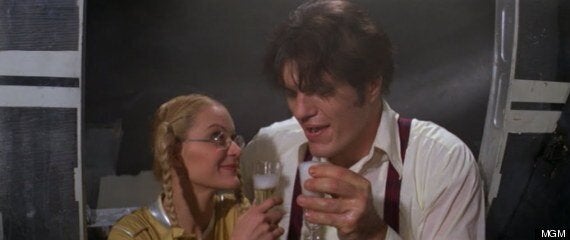 The Villain and his plot (with spoilers): Drax plans to kill off all human life on earth and then repopulate the planet with carefully chosen 'beautiful people'. He has built a space station upon which he, his crew and his breeding stock will await the death of humanity on the planet's surface, before returning to breed and renew human life. He plans to use a nerve agent derived from a rare orchid found only in the heart of the Amazon. Bond and Goodhead want to stop the mass slaughter of humanity, and so sneak aboard a Moonraker. They are found, and presented to Drax. Drax responds with a poetic sentiment. "James Bond. You appear with the tedious inevitability of an unloved season."
The end of the movie becomes something like watching someone play some kind of space invaders game, up to the point where Bond and Goodhead have saved the day and their superiors are trying to connect to them on board the spacecraft by video. "I think he's attempting re-entry, Sir," says Q. Did they write this whole film so they could use that as the last line?
Ultimately, the plan to make money out of a space based film did work, and Moonraker held the record for being the highest grossing Bond film until 1995's Goldeneye.
Film epilogue: Dr Goodhead would eventually become a senior person in the CIA's Directorate of Science and Technology. She would write several books on artificial intelligence and be an occasional consulting lecturer at MIT.