No new trips are in sight just yet, so I'm spending the month of March reminiscing about trips from the past, and dreaming a little bit about travel in the future.
Granada, Spain: You might think I'm going to talk about the Alhambra, and perhaps I should, but my memories of Granada are less of the main touristic site, but more to moments and feelings around the town.
We stayed in a pension somewhere on the road up to the Alhambra. I remember that road was lined with shops selling things for tourists, and there was a guitar shop underneath our pension. I remember lying on the bed just after we checked in, with the windows open (it was very hot, and a long trip from the railway station), listening to the tinkling sound of the guitars from downstairs.
We decided to buy some handmade wooden goods with marquetry/wooden inlay which seemed to be a speciality of the town. I bought a jewellery box that played music (the man in the shop tried to tell me the story about the tune but my 8 weeks of basic Spanish lessons didn't cover that.) There was an American couple in the shop who were also interested in buying some things.
"Do you take dollars?" they asked the man in the shop.
"Cambio, American Express" the man replied, gesturing down the street, where there was American Express exchange bureau.
"No, no," they said. "We don't want to change money. We want to pay in dollars."
"Pesetas," the man said, followed by some words I didn't quite catch but possibly were along the lines of, "This is Spain, our currency is the peseta. I don't want your dollars. Dollars are no use to me."
"I don't think he wants to take dollars," the couple observed sadly before leaving without buying anything.
Husband-then-boyfriend and I tried to find somewhere to eat in the evening. We found a restaurant that looked good and was mentioned in our guidebook, and we could see people eating inside, but when we tried to go in the door was locked. One of the people eating (we realised they were the restaurant staff) came and opened the door to us, and explained the restaurant didn't open until 9pm. He gave us a look that seemed to say, "What kind of crazy barbarian wants to eat at 7pm anyway?"
Gent, Belgium: Is this the first Belgian city to make it into the list? I can't believe that. I've been to Belgium so many times, visited so many cities, but Gent is the first one to make my list? I'm not saying it doesn't deserve to be here, no no no. In fact I would say Gent is one of Belgium's underappreciated gems. It's not big like Brussels, or industrial like Antwerp or chocolate box touristy like Bruges. It's just itself – charming and quirky, like so many Belgian cities and towns. If I could change one thing about it though. it would be to bring the train station a little bit closer to the town centre. (It's a long walk.)
It was in fact a train journey that first brought Gent to my attention. I had seen Gent out the window of the train on my way to somewhere else (Bruges? Antwerp?) and thought it looked nice and worthy of further investigation, and so persuaded friends to come with me as part of a long weekend in Belgium.
And we found that Gent really is worth further investigation.
There are some historical attractions, famous churches, quirky street art, charming little shops, and of course great food (although of course you can get great food almost anywhere in Belgium).
On our first trip to Gent, which I'm guessing would be in the early 2000s, we took a picture of me outside this shop selling wild and funky wallpaper. On our most recent visit (2018), we were happy to see the same shop was still there, still selling crazy retro wallpaper, so we recreated the photo. If you want to know the character of the town of Gent, it's that a shop selling this kind of wallpaper can make a good business and keep going for years. Use this as your yardstick to decide if you think it's somewhere you want to visit.
Places I want to visit: Gdansk, Poland
Do you ever see a picture of a place and think, I want to be there and see that scene, and then I will know I am really here. And when you get to that place and see that scene or that building or that art work or that river or that bridge, your soul does a little sigh, and you relax a little, like you've scratched an itch you didn't know you had.
Maybe I'm not explaining it properly, and you may be confused at my choice of Gdansk, amongst all the cities in all the world. I can't explain why, but there is something about this dark brown building by the water in Gdansk – I really want to see it. And when I see it I want to take a few minutes to really look at it and stare at it and let the reality of being in Gdansk sink in.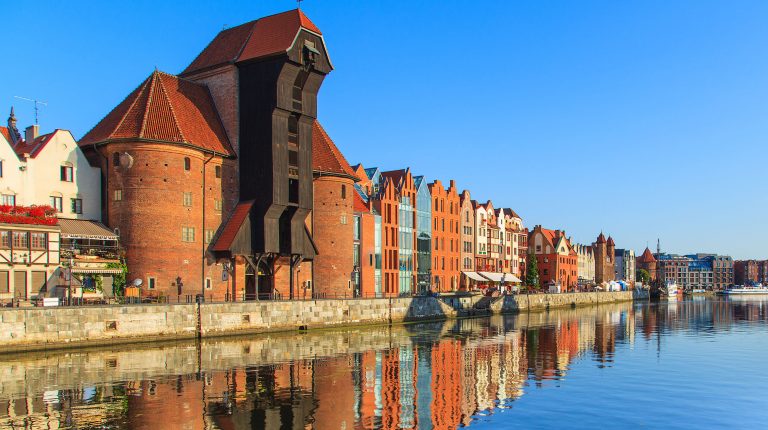 And then I will sigh and I will know, I am really here.